Support your early reader and sign up for 1,000 Books Before Kindergarten!
What is 1000 Books Before Kindergarten?

1,000 Books Before Kindergarten is a commitment you make to your child that will prepare them to succeed in school and beyond!
Did you know that reading to your child is one of the most powerful ways to boost his or her brain power? By reading 1,000 books before kindergarten together you help your child learn pre-reading skills such as understanding the sounds letters make, developing a bigger vocabulary and better success decoding words – all important skills that prepare your child for learning to read and entering kindergarten.
How do I sign up?
Sign up in the Children's Room, or, you can sign up online! The form is on the bottom of this page. If you sign up online, a librarian will connect with you soon so that you'll receive a welcome letter with instructions to participate.
What do I do to participate?
First and foremost, read to your child! Read the same book over and over again or read a new book every time. It doesn't matter, just spend time together and read. Keep track of how many books you read on your reading log (Yes, you can count a book more than once if you re-read it!) When you read 100 books, come into the library to mark your milestone or fill out this form Some milestones have rewards but we think the act of reading together, however, is reward in itself.
Can't I just do this on my own?
Yes, absolutely, but we think it's better to do it with us. Life gets busy and sometimes we misplace our priorities. We think it will be easier to remember to read to your child if you're working towards a goal and you can see the progress that you're making. 1,000 books before kindergarten is a lot, but it's doable. We know you can do it. We can do it together.
---
Want to sign up?
Already in the Program?
Log your progress from home by clicking here: I read 100 more books!
Print Your Reading Logs from home, stop in to the library, or call us at 860-267-6621 to schedule a pickup time!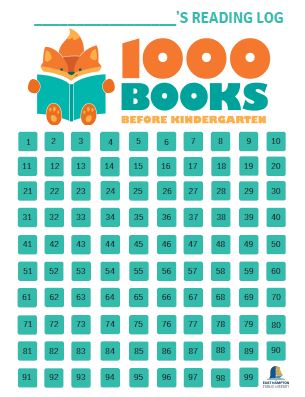 1000 Books Before Kindergarten:
The concept is simple, the rewards are priceless!