Featured
East Hampton Public Library wins big!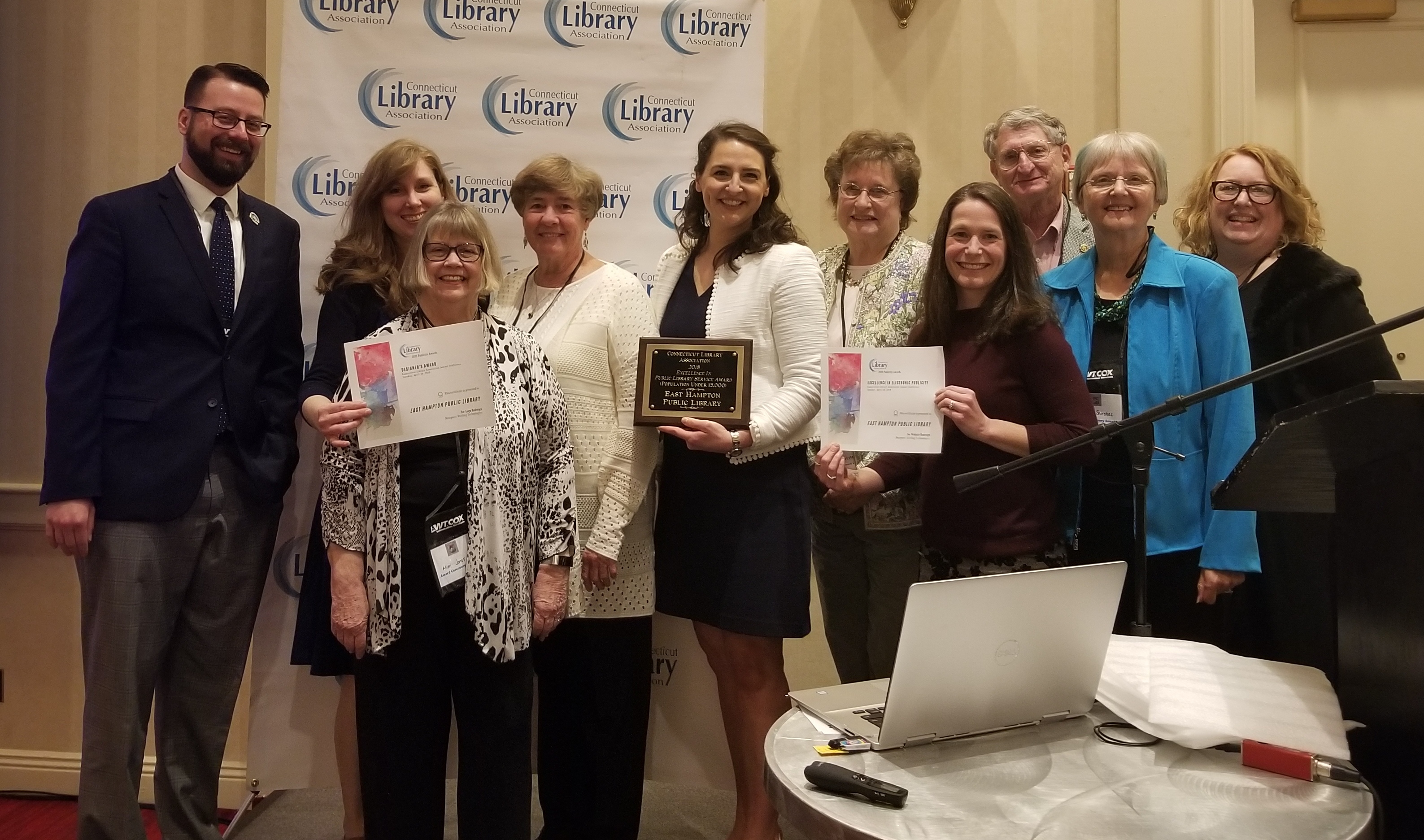 The East Hampton Public Library won three awards at this year's CT Library Association Conference!  These awards honored the work of our staff, Library Advisory Board and Friends of the Library organization over the last year.
Excellence in Public Library Service
The Excellence in Public Library Service Awards honor public libraries that have provided an outstanding program or service to their communities.  They are given in 2 population categories (15,000 and under or over 15,000).  Nominations are judged on creativity and innovation, service to the community, leadership in creating model programs and programs which will affect the future of the library and its community.
Working with their Library Board and Friends organization, the East Hampton Public Library provided excellent service to their business community.  
In the Library's 2017 Community Conversations, the public identified that the economic growth and vitality of their downtown was their highest priority.  
After hearing this, the Library partnered with 22 local businesses to offer educational and instructional workshops and lectures to the public.  Allowing businesses to showcase their products and expertise and giving the public educational opportunities. 
The Library also partnered with the entrepreneurial non-profit SCORE to offered 8 workshops on small business growth and development. One of their graduates even opened a store in downtown. 
Finally during this last holiday season, the Library sponsored a Shop Local campaign.  For every purchase made downtown the shopper got a raffle ticket they returned to the library.  They ended with over 450 entries each representing money that stayed in East Hampton.
Publicity Award for Best New Library Website
The East Hampton Public Library sought a website that would be welcoming, friendly and engaging.  They built a platform to showcase their events, digital resources and collections that is both beautiful and functional on every device.
They have given their community an attractive, information-centered website that is modern without being austere and cutting edge without being flashy.  With their color palette of blues and gold, the official colors of the East Hampton, they are relevant to their community as well as fresh and inviting.  Their graphics are fun but not silly.  Their menus are easy to navigate without overwhelming people with too many options or library jargon.  Best of all, in their pre-launch user testing, 100% of respondents said that they learned about services that they didn't know the library offers by looking through the website.
Publicity Award for Best New Library Logo
The East Hampton Public Library sought a logo that reflected on their town's history while highlighting the library's bright future.  Their mark is friendly and welcoming and their font is modern and bold. 
East Hampton has a long and proud history of ship-building and bell-making.  On every street sign in town there is a ship and a bell.  To be relevant to their community, these elements had to be included in their logo.   The open book, however, ensures that there is no question that this is the Library's mark.    
Their logo tells people that they are welcoming and open, that they are grounded in their shared history but that they are ready for the future and relevant in changing times.